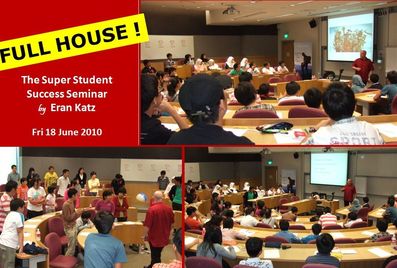 Have a head start in 2013 with Eran Katz
The success of Eran Katz's Super Student Success Seminar in December 2009,  June 2010 and May 2011  has many people calling for Eran to come back to Singapore. Good news!
Eran will be back with his new "Instant Super Memory Lecture for Students" on 24 Nov 2012 from 9am to 12pm.
Once again, we are expecting a larger crowd, so, do sign up early to avoid disappointment.
Eran has written many books about improving memory and he firmly believes that good memory is a skill that can be learnt and that it gets better with practice.
Why should Students Learn Memory Mastery?
Improve Grades in test and examinations
Increase Confidence – remembering facts and formula will no longer be a problem
Reduce anxiety and frustration when learning is made easier
Reduce unnecessary hours of mugging
Improve social interaction when you remember things easily
Learn the Art of "Artificial Enthusiasm" and how it can help you
Understand why Stress Reduces learning ability
Create "Memory Stories" to have unaided memory recall
Techniques of association and other memory tricks
Improve Sleep Quality – no nightmares!
Eran is an entertaining speaker and everyone enjoys learning his memory techniques in a fun-filled manner! Just take a look at Eran in action at the United Nations' Brain Education Seminar:
Mr July Tan, father and professional tutor had this to share after attending last year's "The Super Student Success Seminar" on 2 Dec 2009:
"Mr Katz has impressed me thoroughly with his memory skills and bubbly presentation. As a father, I'm sure he can empower today's children to the next level study skills."
Madam Zainah, a caregiver whose wards attended the Seminar in November 2010, said
"I am very happy too, seeing the faces of our children coming back from the seminar. I knew instantly that they had benefited from it. They were enthusiastically telling me all about it with joy in their faces. They told me that it was the best seminar of all, even for those who had gone last year. They said it was terrific."
You can read more testimonial at this page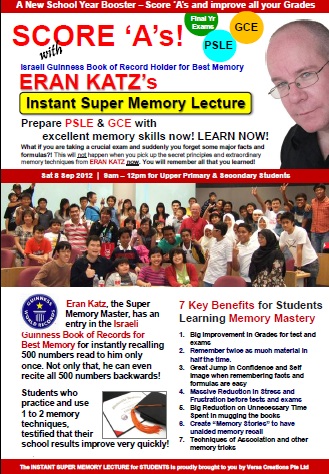 Skyrocket Your Exam Grades
With loads of humor, exciting and surprising Eran Katz reveals extraordinary techniques to boost memory power, develop efficient (yet fun) studying habits and successfully achieve your study goals.
Learn and practice fool-proof techniques for easy recall WAY before Examinations! Here is an outline of some of the exciting things that students will learn:
PART A: From "Monkey Student" to "Student Sapiens"– the "Smart Memory" approach for conventional students.
PART B: Becoming a Super Student – the Golden Trail for Effective Learning
Class Conquest ( the Art of Listening, super note taking and participating)
Revolutionary learning styles – Hugo's maneuver, the Jewish Socratic method & more
The Art of Artificial Enthusiasm – How to learn things that aren't interesting. The Jewish Yeshiva example
The Birta Effect – How to avoid procrastination and manage the time you need to prepare the exams
Test Preparation – How to prepare final exams, organisation techniques, combating test panic and exam PR – the 10 Greatest Exam Success Tips
Part C: Becoming a Super Student with a Super Memory
Witness amazing memory stunts … and do them YOURSELF!
Performed by Eran Katz himself, the Guinness Record Holder provides students the proof that they can DIY memory stunts themselves. Learn and practice fool-proof techniques for efficient recall of:
Lectures, articles and loads of written materials for exams
Facts, quotes, data and general information
Foreign vocabulary, concepts and terms
Formulas and Mathematical equations … and more
Part D: Winning the Nobel Prize – How to Achieve Inspiration
Put on your "Superman Outfit" – take your ambition and inspiration to the next level. Discover the 4 common principles Nobel Prize winners share and make use of them after graduation.
Program Details:
Date: Sat 24 Nov 2012
Time: 9am – 12pm
Venue: Chinese Chamber of Commerce Level 2
Pricing:
USUAL PRICE: S$198
Student Web Special (General Seating): S$138
Family Package: S$690 for SIX tickets (Buy 5 get 1 free).
Click on the above links to go to the online registration page.
Alternatively, you can Write cheque to VERSA CREATIONS PTE LTD and mail to 19 Kim Keat Road #08-10/11 Fu Tsu Building Singapore 328804
For School Package (bulk discount): CALL Tel: 6250 3882 or FAX: 6250 2110 for more information.
Note: The Trainer reserves the rights to make alternation to the syllabus covered in the lecture to the best interest of the audience without advance notice