UPDATE – 6 May 2014 – Mr Eran Katz will be coming back to Singapore sometime in 2014. Contact Us to be placed on reservation list.
On behalf of Eran Katz, we would like to thank everyone who has contributed to making Eran's visit to Singapore in May 2011 a roaring success. Here are some of the highlights!
Interview with Michelle Martin on 938Live! in Singapore: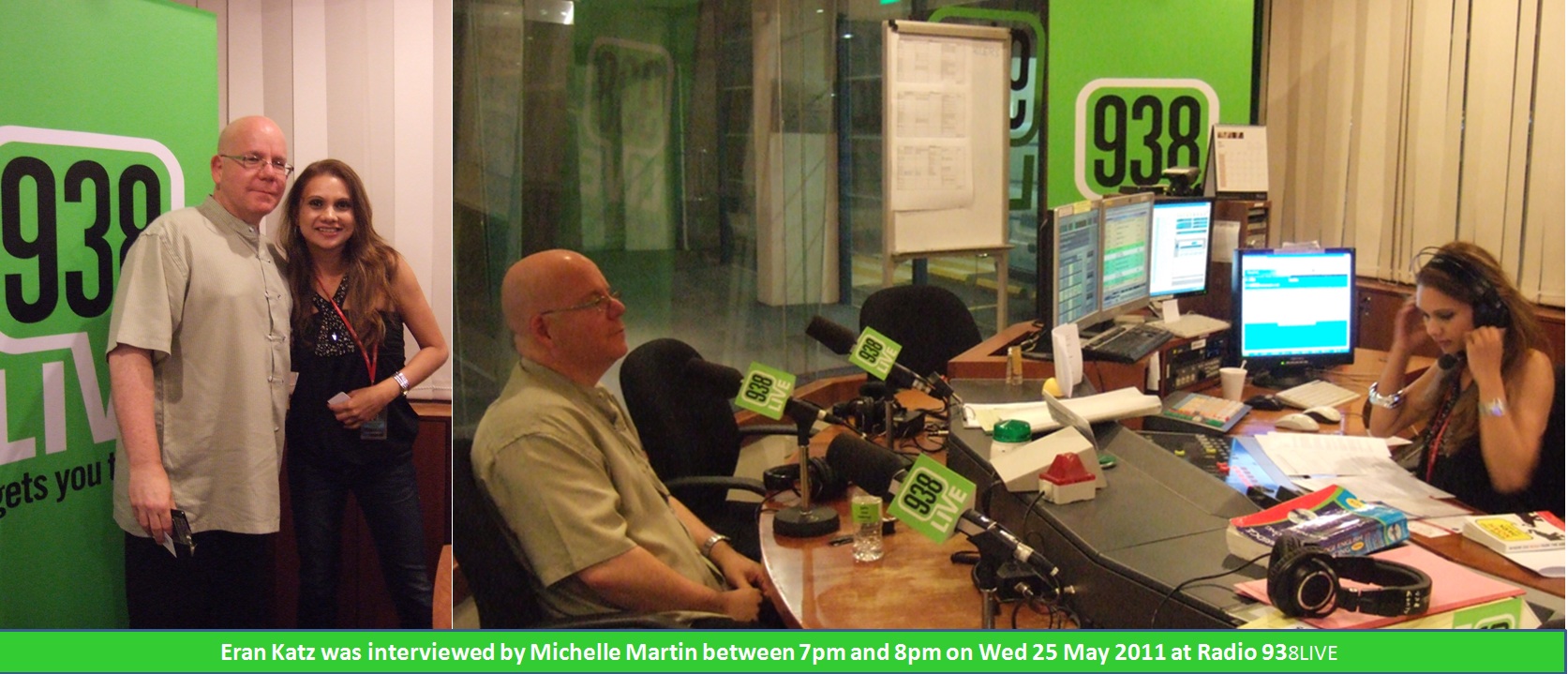 Eran had a really nice time in the studio, playing with the microphone and trying to look cool in front of the sophisticated and poised Michelle Martin of 938Live!
During the show, Michelle asked Eran a lot of tough questions about getting a good memory. Worse, she wanted him to solve the problem that she has been having for years… trying to remember where she parked her car. Fortunately for Eran, Michelle had a copy of his latest book "Where Did Noah Park The Ark?" and he quickly pointed out a few strategies for her.
Eran also gave away 2 tickets for his seminar worth almost S$500 each for two lucky listeners. It was a great interview and Michelle even agreed to take a photo with Eran!
Interviews with NOQ and NTUC Lifestyle
This trip, while in Singapore, Eran managed to find the time to meet up with the editors from NOQ the online bookstore and NTUC Lifestyle, the members' magazine.
For the first time, Eran has a book published in English and it was a great opportunity for him to talk about "Where Did Noah Park The Ark" with these two lovely editors. For the longest time, Eran's books have been available in 12 different languages, but none of them in English.
Eran was able to share some of his memory tips and also, it was a great opportunity for him to gain a little more exposure in Singapore. Hopefully, he will like it here so we can have him around more often!
Click here to read his interview with NOQ.
Eran Katz @ Kinokuniya
The book signing event at Kinokuniya over at Takashimaya was a roaring success!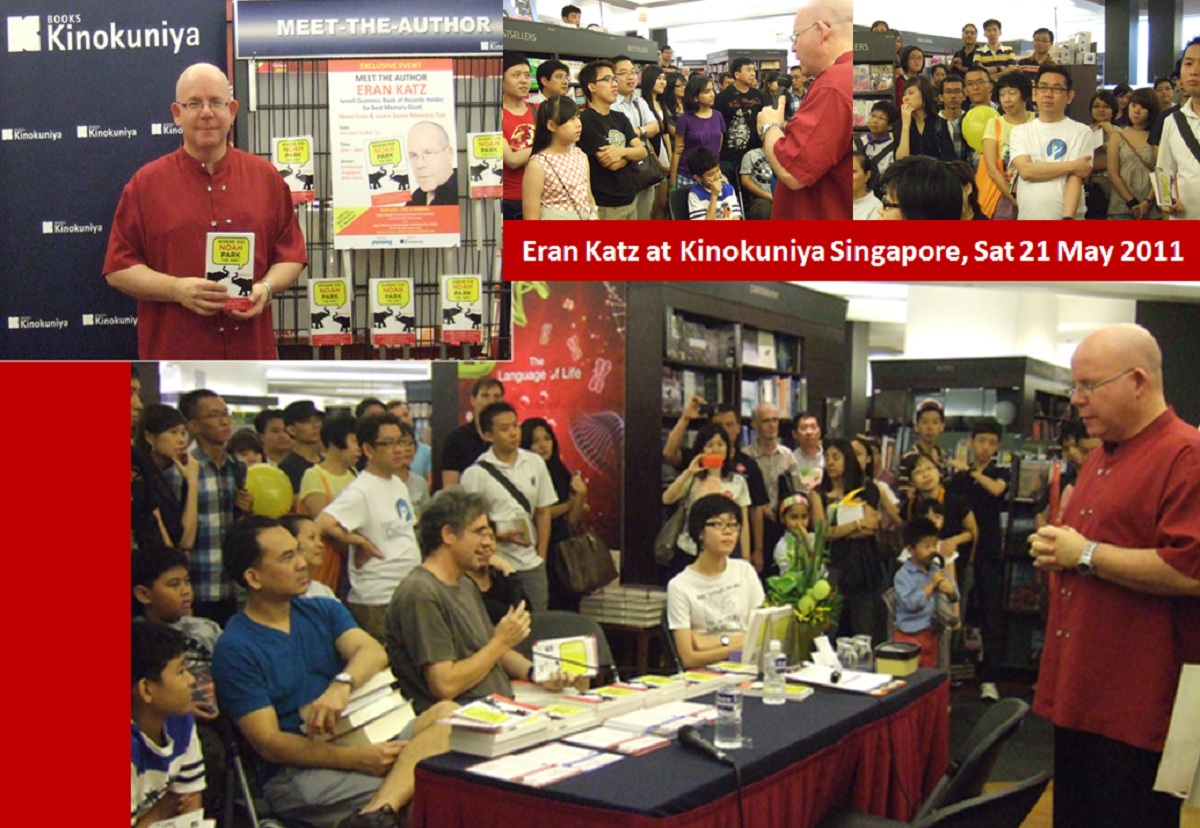 Even before the event started, people were picking up his books from the table. As with all in-store events, there was not much room and the aisles were packed with people. Not only was Eran able to wow the audience with his numbers memory stunt, he was also there in person to answer some difficult memory challenges that the audience faced.
But most importantly, Eran was on hand to personally sign the books. Any book lover will tell you, having an autographed copy gives you that special feeling that cannot be articulated.
The fact that Eran emphasized – ANYONE can do those memory stunts if they were willing to learn the techniques and put them into practice, really astounded the audience.
Eran Katz Super Student Success Seminar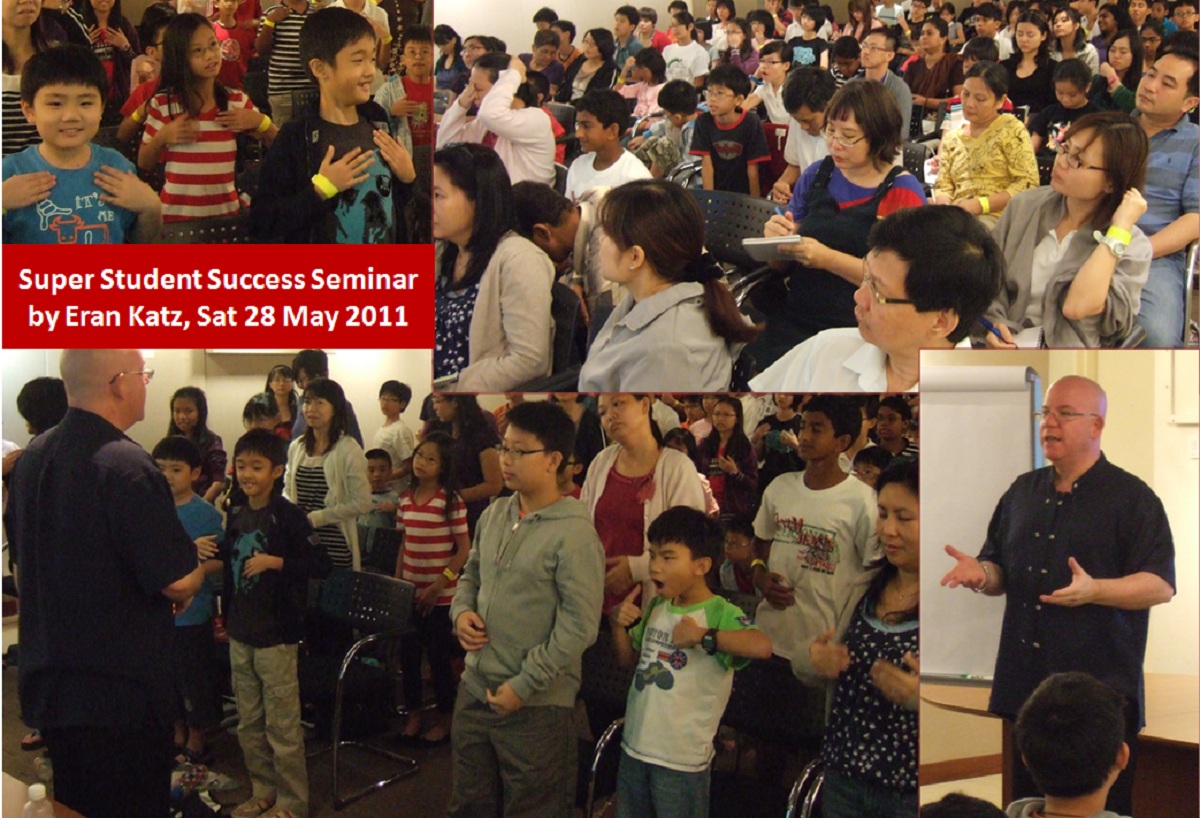 Every time Eran comes to Singapore, we all will look forward to his very exciting Super Student Success Seminar.
This year, it was no different. Eran addressed a room packed with students, parents and even teachers who were intent on hearing him share his insights into becoming a successful student. Eran believes that developing super memory skills will help students gain confidence and hence, be able to enjoy school life more.
Always engaging, Eran is able to share his skills and techniques in a fun and interesting manner. His demonstrations of super memory skills not only inspired the audience, it provided irrefutable proof that the methods taught actually do work.
Everyone walked away with something of value. And it is Eran's hope that they will thereafter find an easier and more pleasant journey through their school life.