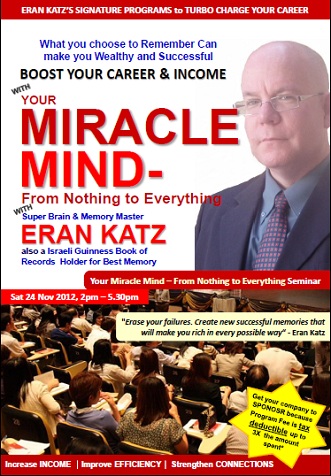 WHY should you maximize & leverage on your Miracle Mind?
Many millionaires share common traits. They harness the immense power of their brain and have a great memory! To scale the corporate ladder or to make it big in the business scene, are you taking advantage of your strongest and most efficient tool – YOUR BRAIN?? PMEBs who have trained their brain and memory can easily transform simple tasks into outstanding achievements. They are poised to scale the career ladder and watch their income grow FASTER.
WHAT You'll Definitely BENEFIT …
Develop unique brain skills which will increase efficiency, strengthen interpersonal connections, save valuable time, reduce unnecessary stress and transform your memory into an amazing tool in every aspect of your life.
Do past failures make you feel insecure? Are you afraid to reach for the stars? The burden of the past and its impact on our future; how negative experiences create negative setbacks and prevent us from succeeding.
Make the right decision… in 2 minutes! Based on scientific research. Why do rational people believe that they can beat the casino? Can we create a mental mechanism to avoid making fatal mistakes in the future? You will learn the technique here.
The ingredients that create luck… Is luck related to destiny? What is the difference between lucky people and unlucky ones You will learn The Art of Creating Luck and Prosperity for yourself and others.
Impactful Presentations without notes – Even if you were asked to make a last minute business presentation, you will succeed in wow-ing your audience with large amounts of information conveyed in a convincing, comprehensive, effective and logical manner.
WHAT You Will LEARN…
Upgrade Your Brain Performance Eliminate distractions and time wasters and stay on the track to success The Art of Paying Attention, being interested and developing organizing skills | Improve concentration and develop razor sharp attention| Overcome memory blocks and eliminate distractions |The Art of Enthusiasm |The Basic Association System
Ride Above Tides How to rise above stressful failures, lack of energy and loss of self confidence; and to advance from failure to outstanding achievement without losing enthusiasm.
Super Memory Magic – Advanced methods to remember daily tasks, information & presentations without technology aid
The Roman Room System |The Body System
Master the Ceremony – How to sell yourself, your ideas and your products at a 90% ROI rate Learn how to remember and deliver eloquent speeches and anecdotes with ease and impress an audience without needing power points or technical accessories.
Super Achiever's Armour Building rapport is critical to be a successful PMEB. To stand before a group in any setting and remember everyone's name immediately is a prerequisite for any successful executive. You will generate motivation and admiration among your clients, colleagues and friends by remembering faces and recalling names easily. Learn The Pinocchio Method| The Icon Method| The Napoleon Technique| The Twin Effect and more.
Super Language Power Traveling for business and you don't know the language there? No fret, you can learn any language in a month, talk without fear and double the speed at which you learn the vocabulary that generate success. Eran shares that you need only 600 words to understand 75.6% of any foreign newspaper. He will show you how to use a special technique to learn these words super fast!
Eran is an entertaining speaker and no one will fall asleep during his lectures! Take a look at Eran in Action at the United Nations' Brain Education Seminar:
WHO is Eran Katz?
Eran Katz is a Israeli Guinness Book of Records holder for the longest string of numbers memorised. Before a live audience, he demonstrated how he can recite 500 numbers after hearing them once. And on top of that, he can recite these numbers backwards.
He is an eloquent speaker and teacher in the memory and intelligence sphere. Memory is a skill that can be trained and improves with practise, that is Eran's firm belief. About 200,000 people around the world have attended one of the 1700 entertaining lectures and seminars he has delivered
He has written several books on memory which have been translated into many languages. His book " Where did Noah Park the Ark" was published in Sept 2010 and is now on the best selling lists in many major bookstores around the world – including Singapore's Kinokuniya, Times and Popular.
Eran has spoken in the United Nations Brain Education conference and The Korean Brain Institute and consulted with many top corporations in the world like IBM, Oracle, Coca-Cola, etc.
More information of Eran Katz can be found here
If you like to hear what people said about Eran Katz, you can read their comments here
Program Details:
Date: Sat 24 Nov 2012
Time: 2pm – 5.30pm
Venue: Singapore Chinese Chamber of Commerce Level 2

Pricing:

USUAL PRICE: S$697

Executive Web Special (General Seating): S$198.


Click the above links to go to the Online Registration Page.

Package (bulk discount): Contact Us for more information.

Alternatively, you can Write cheque to VERSA CREATIONS PTE LTD and mail to 19 Kim Keat Road #08-10/11 Singapore 328804

Tel: 62503882 Fax: 62502110 Email: seminar(AT)versacreations(DOT)com

Kindly remember to state the Name of the Seminar you are signing up for and the number of tickets paid for together with your contact information.

NOTE: TAX DEDUCTION FOR COMPANIES SPONOSRING EMPLOYEES: For examples of how companies can send employees for Eran Katz's training and SAVE MONEY, check out http://erankatzasia.com/tax-deduct